With the biggest gaming convention of the year, E3, it is important to stay up to date with everything that is happening.  This article features the press conference of the game developer behind such series as Fallout and The Elder Scrolls, Bethesda .
Intro
Bethesda opened its press conference showcasing real employees talking about what they do and how they can't believe their job is making video games.  It also showed their kids talking about what they think their parents do.  It was a cute piece and really touched home with the real people behind the games we get to play.  This is, after all, their life and passion fueled through an electronic entertainment system. Additionally, Bethesda showed a clip of a combination of all their current games. It was another good piece and got the audience excited for the show.
Bethesdaland
The theme for this year was Bethesda combining their products into one giant theme park.  It was a good idea, and throughout the show, an announcer commented on what was happening.  However, the announcer quickly made the feeling of going through the park slow and boring.  This could have been a way to extend the show, since it was not very long, only a little longer than a half hour, and there were no long gameplay trailers shown.
Virtual Reality
The first part of the show was Bethesda showcasing their titles that are virtual reality compatible.  The first titled "Doom VFR" was a virtual reality game based on last year's reboot hit Doom.  I do not have a device for VR, but if I did, I would strongly consider this one.  It seemed being inside Doom was excitingly terrifying.  There were also VR trailers shown for their other successful games, The Elder Scrolls V: Skyrim and Fallout 4.  I own both games and they are among my all time favorites.  I admit that it would be interesting to play these in VR, but from what I heard, playing these for long hours at a time with VR is hard on your neck.
The Elder Scrolls Online: Morrowind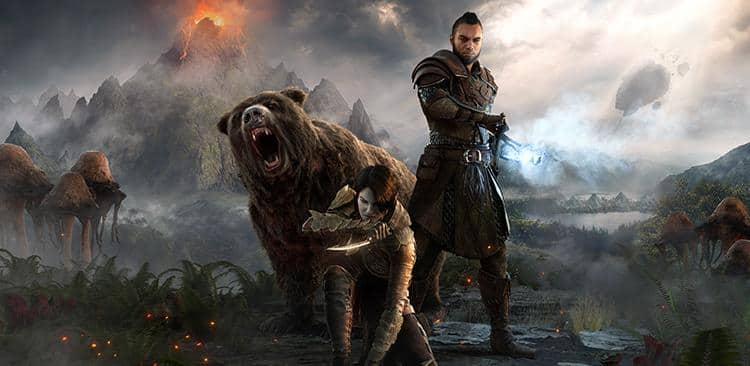 The next event for Bethesda was looking into the fairly recent release of Morrowind.  Morrowind is an expansion of the original game that takes players back to the land from Elder Scrolls III. Additionally, this add-on features a new class (comes with a bear companion) and a mode called Battlegrounds, which has 4VS4 player battles. This would be of interest for anyone still hesitating to buy the addition and wanting to know more, however, for anyone not interested in The Elder Scrolls Online, this was a waste of time.
Dishonored 2 Death Of The Outsider
 
The franchise Dishonored has created two magnificent worlds fueled by how the player wants to go through the game. There are several different ways to not only go about the game, be it peacefully or mercilessly, but also how to move around the different parts of the world and complete objectives.  Not to mention, the DLC for the first game was exceptional, and I would expect no less from this one.
The Evil Within 2
The next game shown and perhaps the highlight of the whole night was the absolutely brilliantly crafted trailer for suspense horror game Evil Within 2.  This trailer as well could be arguably the finest in the entire E3 showcases.  For those that do not know, The Evil Within is directed by Resident Evil creator Shinji Mikami and features a distorted world full of nightmarish locations and horrid creatures.  It plays in a third person perspective in which players battle disfigured nightmare-like enemies using guns and melee weapons.  Players will also progress through the levels avoiding traps and using stealth.  The trailer is below, and I highly suggest checking it out!
Wolfenstein II New Colossus
The last game shown at Bethesdaland was the sequel to original game Wolfenstein: A New Order.  The first game took place in 1946 when the war was not yet over, and Nazi Germany was turning the tide against the Allies.  The trailer showed that the main character named William "B.J." Blazkowicz from the first game did actually survive (sorry spoilers) and finds America occupied by Nazi Germany.  It's up to him and a band of rebels to inspire the people of America to once again fight their German oppressors.  The full reveal trailer is shown below.
Conclusion
The Bethesda 2017 conference was led by two upcoming games titled The Evil Within 2 and Wolfenstein II: The New Colossus, respectively.  They are both sequels to two great games, and I expect from what I saw that these games will be good too.  However, these games are a supporting cast so to speak and should not be the highlight of a conference.  In fact, Bethesda only showed games that were already out or coming out this year, which can be a good strategy.  This allows players to know all of these games are coming out within the year, so they will not have to wait long to play them.
However, there was not one surprise in the conference.  The Evil Within 2 and Wolfenstein were already rumored to have been showing.  A completely new IP from the developers behind The Elder Scrolls and Fallout called "Starfield" was nowhere to be seen and could have provided a much needed boost to the presentation.  Starfield is rumored to have the same formula displayed in The Elder Scrolls and Fallout, but in a space and Sci-Fi like atmosphere.  Speaking of The Elder Scrolls, the next anticipated game The Elder Scrolls VI was also not present and could have been a huge announcement, even if years away.  Additionally, there was some talk about the widely successful iOS and Android app from last year's Fallout Shelter and virtual card game from the world of The Elder Scrolls.  It remains to be seen if this card game is console exclusive.  To conclude, Bethesda E3 2017 was unfortunately a disappointment this year.  Their lack of any true big games or surprises, plus the presentation, really was a shame.  Hopefully, next year will be different.
Grade C
Please follow and like us: