A Story of Cats, and Maybe Some Dogs Too
 Castle Cats is a new free-to-play mobile game for iOS.  In this furry adventure, you can collect adorable feline versions of characters like Harry Potter, Django, Katniss Everdeen, and Cthulhu. Also, they are fighting an evil Pugomancer.  Yes, you heard that right, a Pugomancer.  You have been warned!
The game itself is pretty basic as you start out forming a party of feline companions.  The first three cats you recruit, named Conan, Katniss, and Francis, are on a quest to save the world from the vile Pugomancer. The way this is handled is by cut-scenes in between timed missions. These timed-based missions are set according to each animal's special skills. There's also a mechanic that allows players to speed up battles by tapping on the screen, but once the limited tap energy tapers out, it's back to just waiting for the mission to be done.
Bundles and Bundles of Joy
Castle Cats has you leading a guild filled with dozens of unique kitties, each with their own skills and traits of course. You'll get to craft various cats and then upgrade and evolve them to more powerful versions of themselves.
Please note these cats are magical and you have to use Alchemy to craft the most unique of cats to your guild. Also, you can spend your hard-earned kitty loot to upgrade and evolve your cat-heroes and guild!  Not to mention, these cats can fly, tend to get moody, and fight randomly among themselves, so it will be up to you to sort it out!
Other Catastic Facts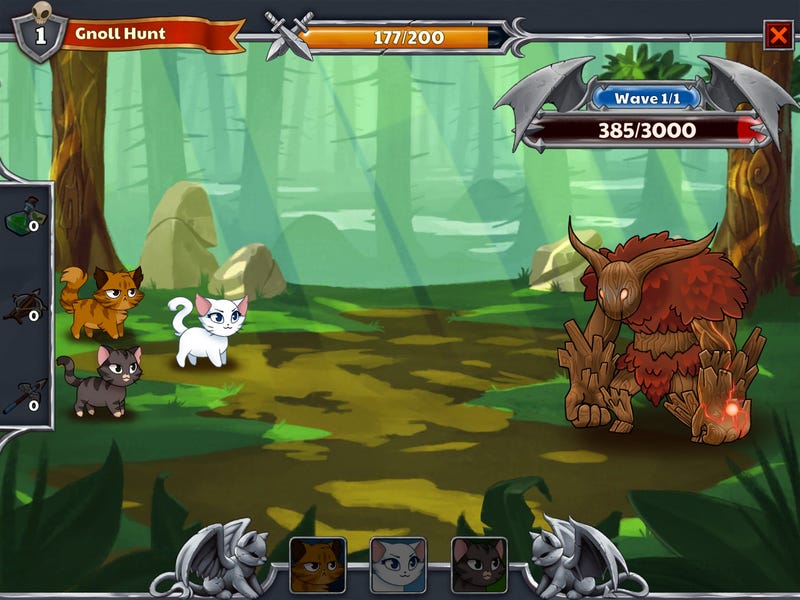 There are over 100 story quests to complete, so plenty of missions to keep the gameplay going for many hours.  Additionally, with this many missions, you can be sure the evil Pugomancer won't go down without a fight!  So join as many battles as possible to stop him, or just do as cats do and chill, as it is all up to you!
Players can also participate in monthly events with brand new heroes and additional story quests!
The cats you collect are earned in a couple of different ways.  First, you can earn them from in-app purchases.  The other method is randomly finding some in treasure boxes.  Also, these cats begin as basic, unassuming kittens.  It's your job to teach them wrong from right and lead them to their destiny! One of the first major characters I received was Toby, and I had no idea what type of cat he was supposed to be referencing until I used a gem to evolve him.
After spending a couple of hours with the game, I noticed real quickly this was really the main goal of playing Castle Cats. Not completing the story, or gathering resources to upgrade your fortress, but upgrading  your kitty crew and having a cat army!
Conclusion
Castle Cats is a fun and unique spin on an adventure game.  The story is cute, the cats even cuter, and even the villain has his cute moments.  I would definitely recommend this game for not only any cat lover, but someone that has always wondered what building a cat army would be like.
Please follow and like us: